Midnight Mass Early Buzz: Mike Flanagan Has Made Another Great Horror Series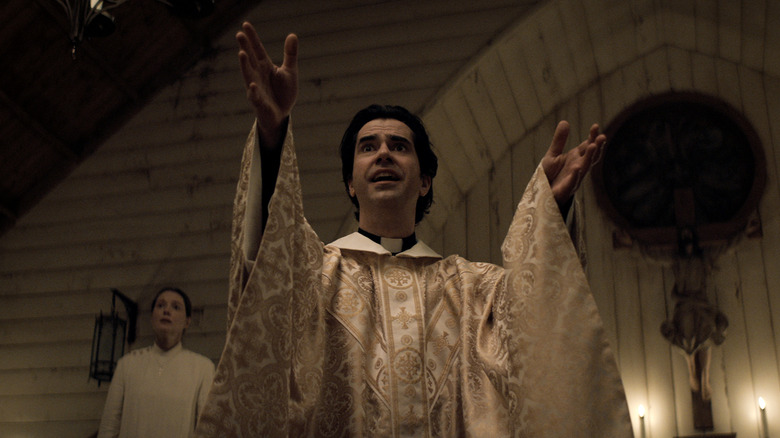 As if excitement for Mike Flanagan's new Netflix series isn't overwhelming enough, reactions to "Midnight Mass" are taking Twitter by storm! 
The horror miniseries is just days away from premiering on the streamer, but it feels like the wait will last an eternity. Even before we caught our first glimpse of the show, most were on board with the pitch: a religious horror from the mind behind the "Haunting" Netflix anthology series ("The Haunting of Hill House" and "The Haunting of Bly Manor'').
Flanagan's latest tells the terrifying tale of an isolated island community whose existing divisions are intensified by the return of a disgraced young man (Zach Gilford) and the arrival of a charismatic priest, Father Paul (Hamish Linklater). The priest's arrival happens to coincide with unexplained and seemingly miraculous events that inspire religious fervor. The community's desperation to believe may seem well-placed, but everything from the trailer to the poster indicates it will come at a harrowing cost. This seems to be the case according to early reactions, which paint the ensuing events as "traumatizing," "frightening," and "truly scary."
Midnight Mass Early Buzz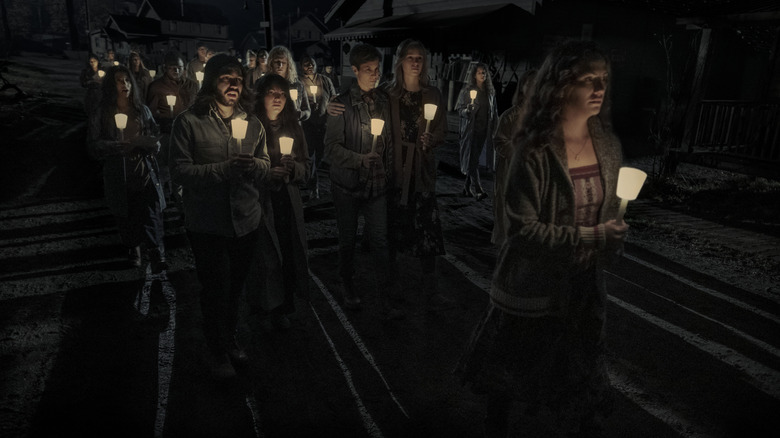 The trickle of social media reactions to "Midnight Mass" started last night, which quickly exploded into a full-on lovefest for Flanagan's latest. So, without further ado, let's take a look at what critics have to say about the newest addition to the Flanagan family.
Even before the buzz arrived in full force, Stephen King weighed in on the miniseries. Some of the director's most heavily praised films include recent King adaptations like "Doctor Sleep" and "Gerald's Game." Here's what King had to say:
King's love for the series was later echoed by pretty much everyone else who had the pleasure of an early viewing.
Even Elijah Wood shared some love for the show.
Much of the praise focused on the way Flanagan grapples with the story's religious overtones, so well that it prompts serious reflection of personal experience with faith and addiction. And don't worry, he seamlessly weaves in the horror so it never gets lost in the mix. With this, there's also the promise of a captivating performance from Kate Siegel (plus a memorable monologue).
Siegel isn't the only performer standing out amongst the talented ensemble: Hamish Linklater's performance as the charismatic priest is clearly making people uneasy.
Overall, the love for "Midnight Mass" is real and thriving, making Flanagan's work as scary as ever.
All seven episodes of "Midnight Mass" arrive on Netflix on September 24, 2021.
Read this next: Midnight Mass Trailer: Mike Flanagan Returns To Netflix For A Religious-Themed Horror Series
The post Midnight Mass Early Buzz: Mike Flanagan Has Made Another Great Horror Series appeared first on /Film.