Boogie Boarding with Kids
Boogie boarding is such a fun way to enjoy a day at the beach. Not only is it affordable and fun, but it's an easy activity for kids of any age. Boogie boarding has physical benefits, as well as helps kids become confident swimmers. Today, Creative Team member and Las Vegas mom of four, Megan Havelaar shares all the tips, tricks, and advice you need to know to get starting boogie boarding with kids this summer! 

Boogie boarding with kids
Are you heading to the beach this summer? Are you looking for something different for your kids to do besides just swimming and playing in the sand? Let's talk about boogie boarding! I have found boogie boarding is a fun summer activity for kids of all ages. Our family enjoys it because it's a relatively inexpensive activity and easy enough for the kids to get the hang of quickly. You don't need a lot of equipment to try it out and you can learn at any age!
Benefits of boogie boarding for kids
Boogie boarding is a great outdoor physical activity for kids. Not only does paddling for waves require a substantial amount of arm, chest, and upper body strength, but you'll also gain core strength as you balance on your board. Kicking to gain extra speed to catch waves works out your leg muscles. Water has a calming effect on the mind, and being outside in the fresh air and sunshine means extra Vitamin D. It's also great because kids can do it with a level of independence, and helps to build their confidence in the water.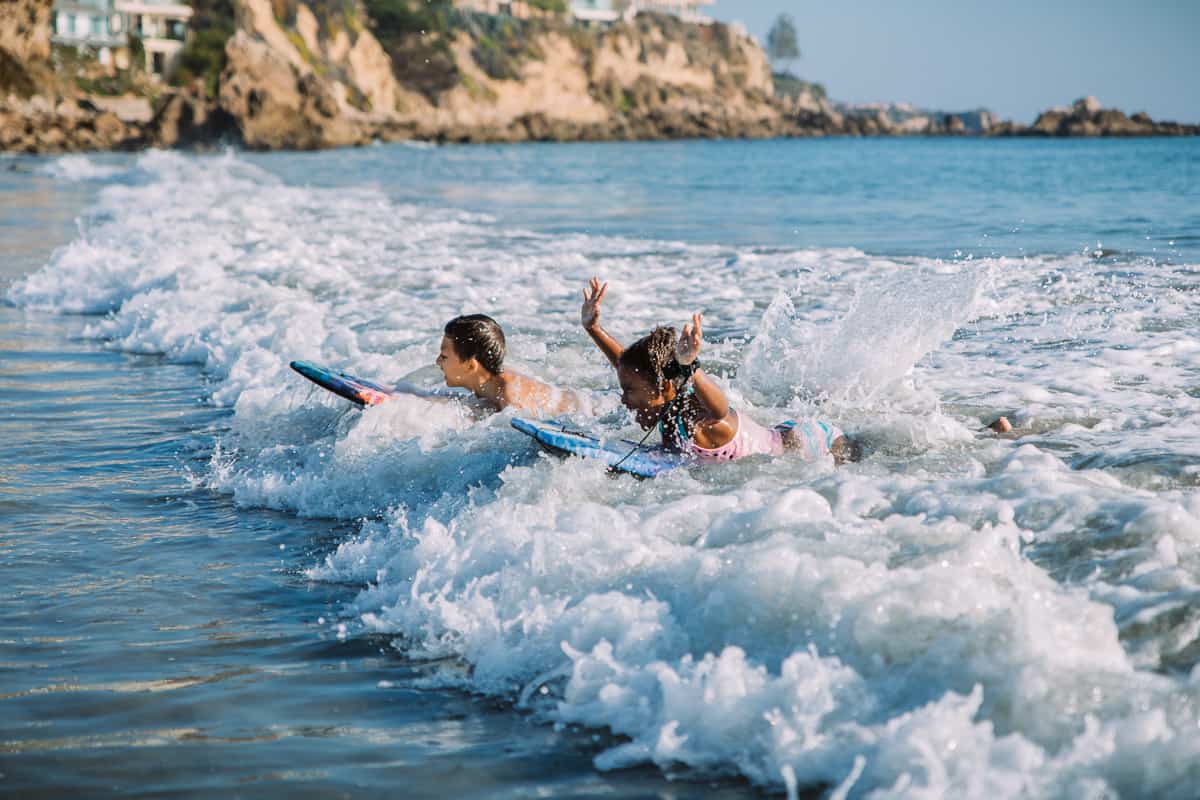 Boogie board or bodyboard?
There's no real difference between the act of boogie boarding and bodyboarding. Boogie Board is technically a brand name for a foam bodyboard trademarked in the 1970s. The term has now become synonymous and representative for nearly all bodyboards, even those made by other companies. You can still buy official "Boogie Boards" at lots of retail stores. It's totally up to you whether you want to call it boogie boarding or bodyboarding; as long as you're having fun, no one will mind! 
Boogie boards for kids
Let's talk about the boogie boards. This can get as expensive or inexpensive as you want. I have found that they range anywhere from $5 to over $100. I have four kids, so when we originally started boogie boarding it was because we found some on sale for $5 at our local retail shop. At a cost of $20 total for a board for each kid, it was well worth the investment. We are now entering into our third summer with those same boards! For those that would like to invest in a different style, higher performance board (with channels or bottom fins), there are some really nice, quality boards you can get if your kids are really into it. 
How to choose the right boogie board for kids
When you're picking out your boogie board, size is the most important feature. Most boogie boards come in a range of sizes, so pick the best size for your little rider. If you're a beginner, it's better to choose a bigger and wider board. It'll give you more control in the water as you get used to riding the waves. A 33″-37″ boogie board is the best option for smaller kids (under 85 lbs). A board that's around 40″ or larger is better for bigger kids, teens, and adults (over 90 lbs). 
Best boogie boards for kids
Here are a few recommended boogie boards for kids: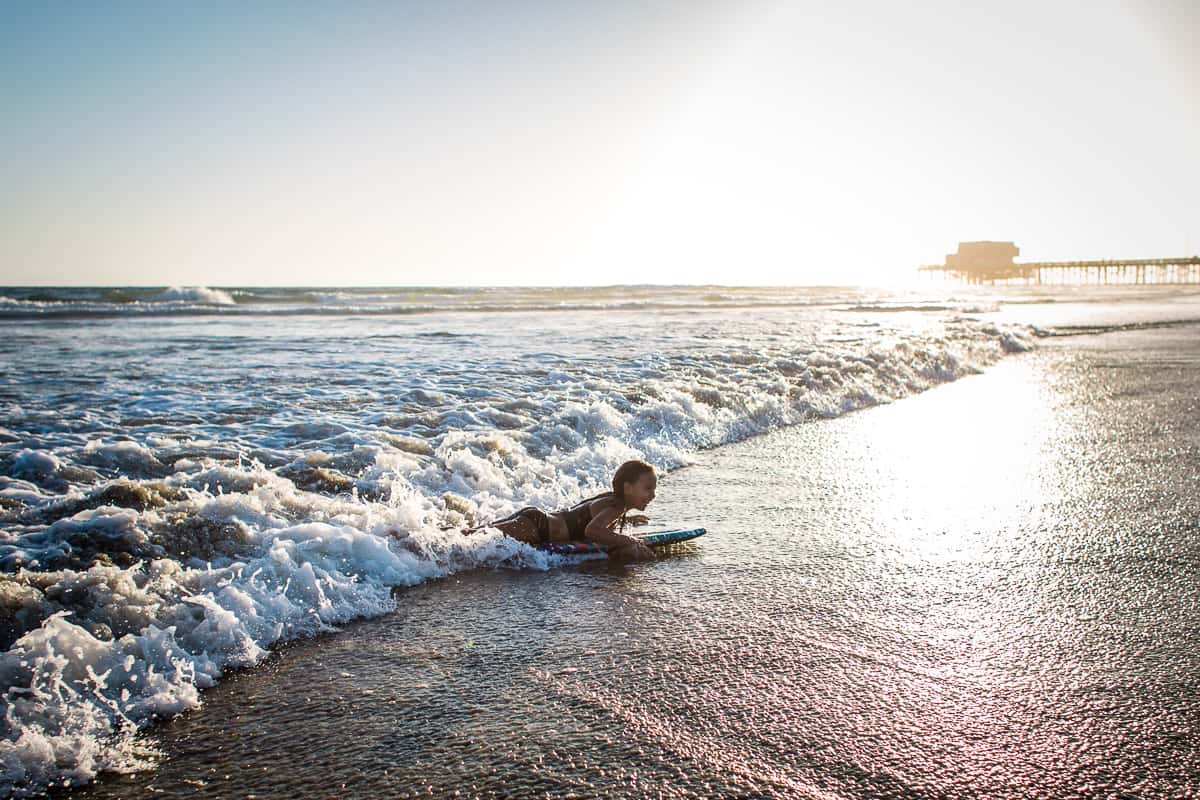 Other boogie boarding gear
Boards also come with a leash that attaches to the board on one end and has a wristband on the other. This will keep the board attached to your rider and prevent it from getting away. You can also purchase swim fins that will help your child practice their kicks, and if they have sensitive skin a rash guard is great for protection from the sun and friction from the board. 
Best age to start boogie boarding
What's the right age to teach a kid how to ride a boogie board? Well, like a lot of outdoor activities, it depends on the child. There is no minimum age for learning to boogie board. As soon as a child can walk and swim, they're ready to hit the waves (maybe around the age of four). Parents are usually the best judge of knowing whether or not your child is ready to give boogie boarding a try. You know your child's skill level, swimming expertise, comfort with the water/waves, and temperament best. It also may depend a lot on your location and the size of the waves.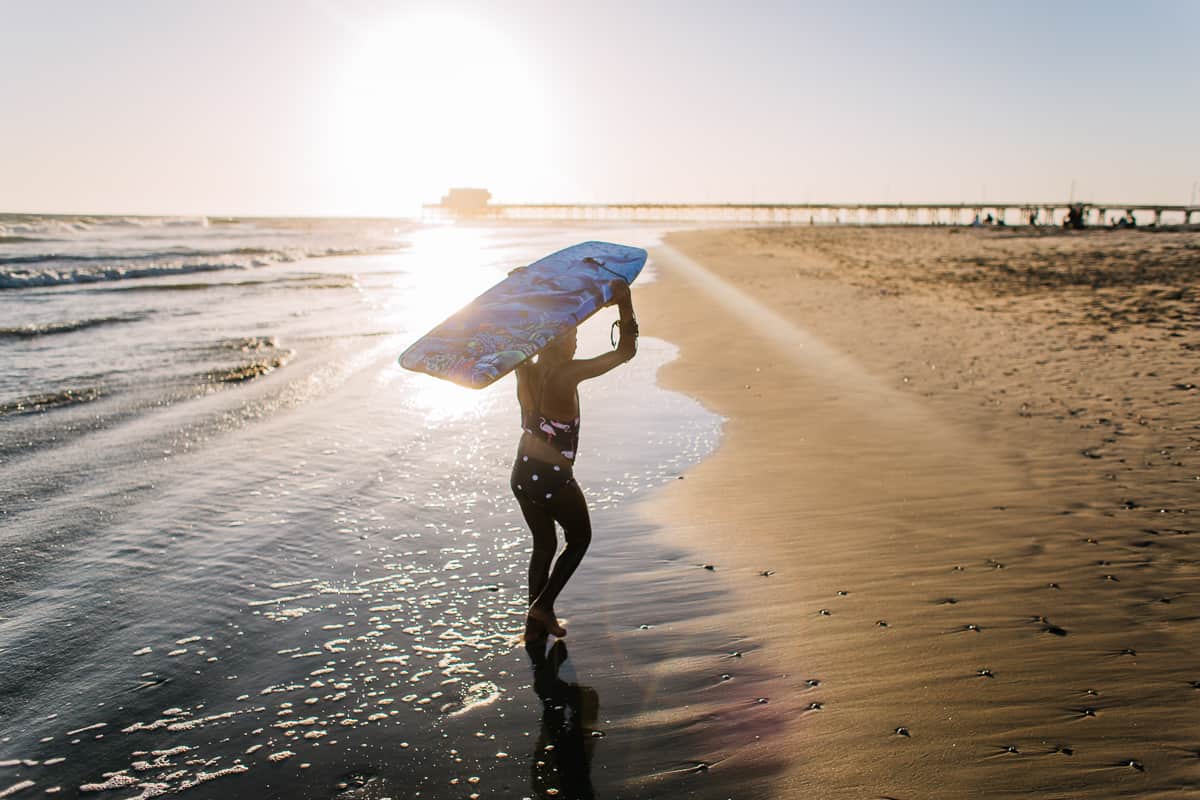 The right beach for boogie boarding with kids
I recommend going to a beach where the waves crash a little away from the shoreline, and one that stays shallow a good distance out. You also want to make sure your kids can touch the bottom. Familiar beaches are great for building confidence for beginners. And warm water is best for little kids (so they don't get cold), but rashguards and wetsuits can help if you're at a beach with colder water. 
Wherever you are, it's always important to watch the waves and continue to be observant while you're near the water. I try and take notice if there are a lot of surfers on the waves because it could be an indication that the waves might be a little too big. Along with that, consider your comfort level with their ability to swim in those conditions. If the beach is too crowded, it might be worth it to wait for the crowd to die down, especially if your kids are young or it's their first time. 
How to boogie board
Boogie boarding is a great introductory beach sport for kids. It features many of the attractive elements of surfing, but on a smaller scale. Like surfing, you'll want to be where the waves break and then ride them in towards the shore.
I recommend that kids start in water that's around waist-deep. When you see a wave you want to ride, you'll move onto the board with your stomach lying flat across the board. As your wave approaches, kick your feet and paddle with your hands to gain momentum. The current will do some of the work for you, but the kicking will add speed for more experienced boogie boarders. Once you reach the shore, grab your board and head back out to catch another wave!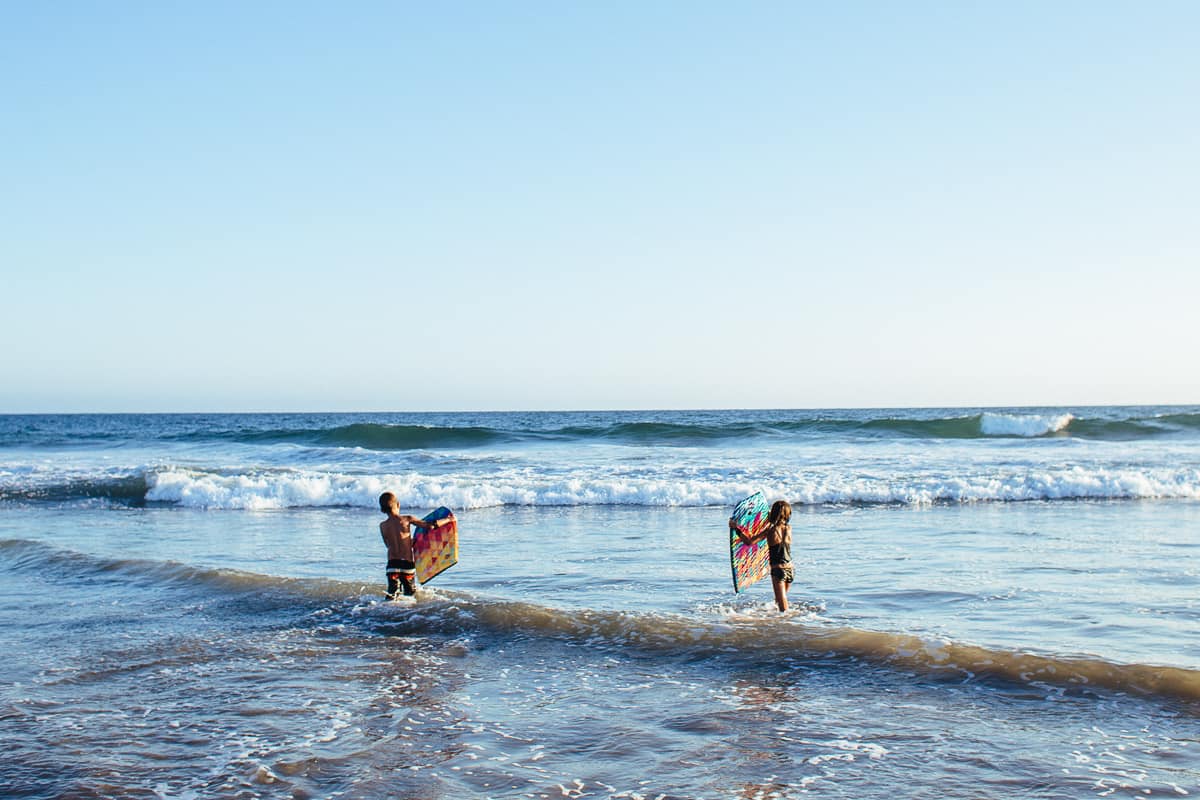 Coaching boogie board beginners
Even if it's something you never have done, boogie boarding is pretty easy to teach kids. If your little one is just getting started, here are a few tips to make the experience easier and more enjoyable for everyone.
Start by making sure you put the wristband on the child's wrist. That way they won't lose the board if they take a spill. Next, you'll want to position your kids in the best sport for catching a wave. Go out to where the waves are breaking or just in front. Walk out there with them so you can feel whether there's an undertow and gauge the depths of the water. 
Once you see a wave start to break (maybe explain what that means if they don't know), have them hop on their boards belly down, eyes up, and face the shore. They should start to kick their feet. Once they start riding the wave to the shore they can stop kicking and just enjoy the ride!  Now, just keep repeating this process.
After the kids get the hang of it they can pretty much do it all on their own, or until you feel comfortable that they are confident in the water. You can always grab a board of your own and join in on the fun with them! I love grabbing my camera or phone, and capturing those smiles and laughs as they ride wave after wave into the shore.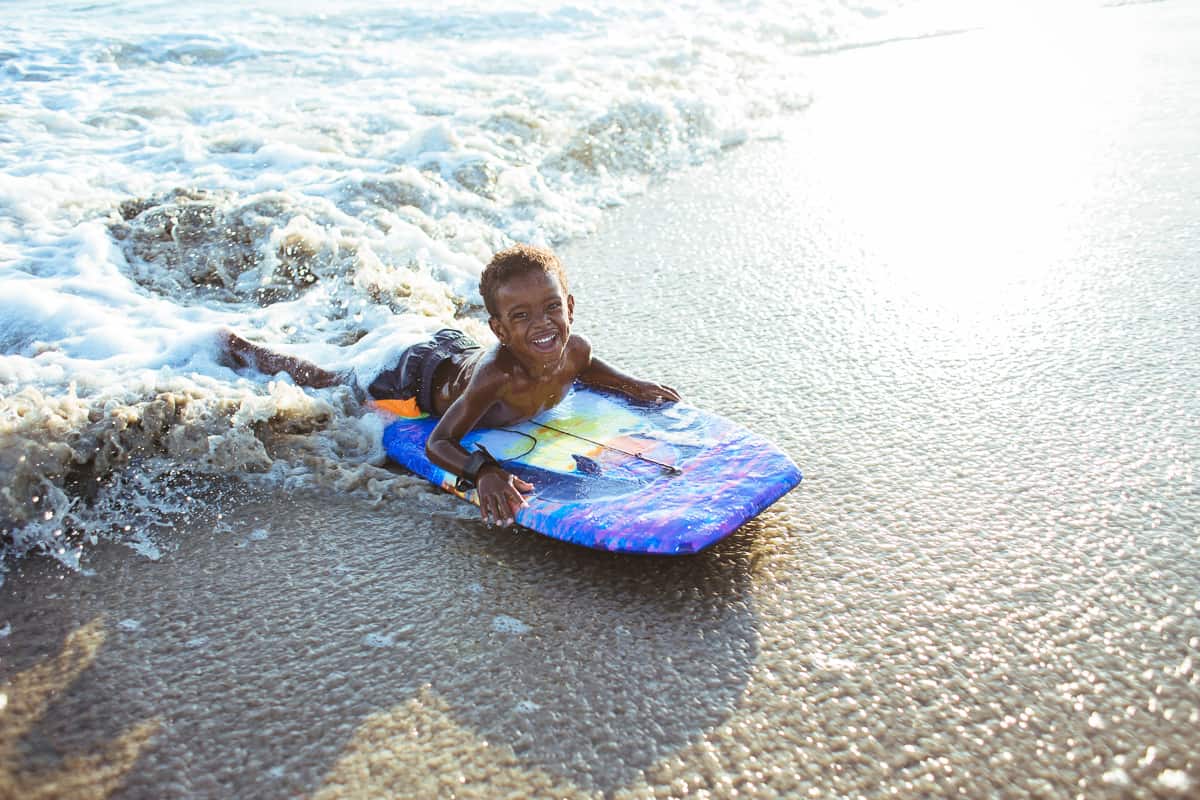 Enjoy spending time at the beach
Lastly, I thought I would share some benefits I've seen in my children as we have spent time at the beach. There's nothing quite like spending time outside and a day at the beach means you're surrounded by nature AND water! There is so much sensory play to be found at the beach, between the sand, water, and if you're at a beach with rocks and tide pools. There are always little creatures to be discovered, shells and rocks to be collected, sandcastles to be built and waves to jump. 
Saltwater has so many healing properties, and the sound of the waves is very calming. The beach is a great place to socialize, meet and make new friends. It sparks a lot of curiosity and you will probably get asked a lot of questions! You may, or may not, have the answers to them, but you'll be impressed by your kids' curiosity and imaginations! Keep that spark of learning about the ocean and beach going at home by reading books about the sea. And lastly, you are making wonderful memories with your kids! 
More fun ways to enjoy the water
If you're looking for even more fun ways to get outside and enjoy the water this summer, check out a few of our other favorite water posts! 
Have you tried boogie boarding with your kids?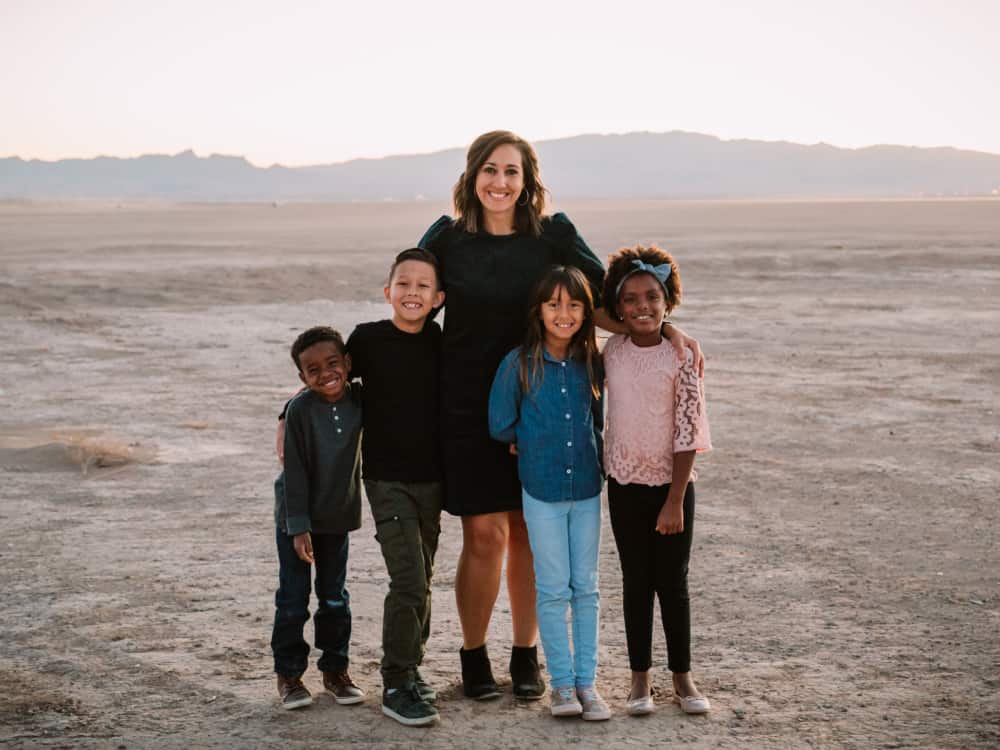 About the author
Megan is a wife and a homeschooling mom of four. She is originally from Colorado, but has spent much of her life overseas. First in Eastern Europe, specifically, Hungary, where her first two kids were born. Secondly, in Ethiopia, where she and her husband adopted their second two kids. She and her family are now stateside, currently living in Las Vegas, Nevada. She loves traveling with her kids, either on planes, road trips, or just in their local area! Most of her family's outdoor adventuring includes water of some kind like beaches, lakes, rivers, waterfalls, or pools. They especially love paddleboarding, hiking, rock climbing, camping, and even just going to the local park to play soccer or basketball. Megan also has a passion for photography and loves to bring along her camera to document all their adventures!
Find more from Megan in the following locations:
Instagram: @meghavelaarphoto
RWMC posts: Megan Havelaar
The post Boogie Boarding with Kids appeared first on RUN WILD MY CHILD.