Bluebee Pals Help Teach about Masks and Safety During Covid-19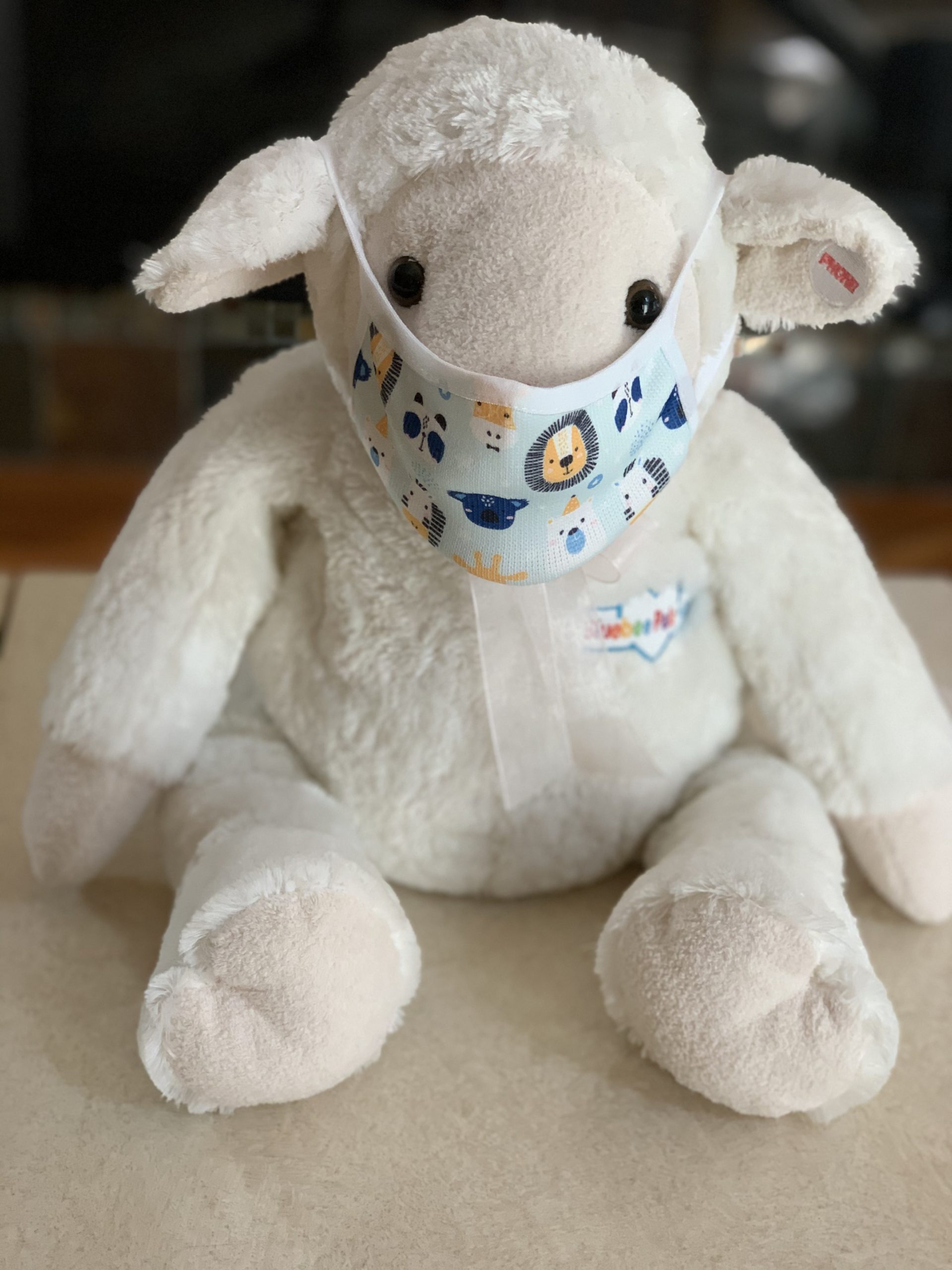 In most parts of the country, schools are beginning to open up for the new school year. Students and teachers will be wearing masks and following new safety guidelines to help protect from getting and spreading COVID-19.    
Although most students have been wearing masks in public over the summer, it's a good idea now to start getting them used to wearing masks for longer periods of time. 
*Have conversations with your child about wearing a mask! Be frank with them and even discuss the obvious "This feels weird doesn't it? Do you know why we have to wear it?".
You might practice wearing a mask during a tv program, playing games or when reading a story. 

Use books and videos with pictures to start a conversation and open up feelings about what is going on.

Use appropriate vocabulary to see if they really know what it all means. 

Don't assume that a child knows how to express what they are feeling.  Children with limited language skills may be experiencing big emotions that they don't know how to deal with.
Bluebee Pals are great tools to use to help your child understand reasons for and to practice wearing masks and using safety precautions. Let your child pick a mask for themselves and for their Bluebee Pal and they can practice wearing masks together!  Use your Bluebee Pal to "read"  Bluetooth connected stories, or read and record your own books in your own voice for your child. You can also practice social distancing with your Bluebee Pal!
*Keep everything upbeat and lighthearted to make them feel safe.
                                                                                      Here are some excellent resources about masks and safety to check out!
Smiling From Ear to Ear: Wearing Masks While Having Fun Paperback – By Kaitlyn Chu  Let's Smile From Ear to Ear! We're all having to get used to wearing face masks in our daily lives. Let's see how our favorite animals wear their masks and still have fun! Smiling From Ear to Ear is all about showing kids that they can wear face masks to protect themselves and those around them and still have fun. It was created to address kids' fears and struggles by normalizing face masks in everyday activities using a playful and imaginative approach.
https://www.amazon.com/Smiling-Ear-Wearing-Masks-Having/dp/1735299707/ref=sr_1_2?crid=1NBI5TBQJIPI5&dchild=1&keywords=smiling+from+ear+to+ear+book&qid=1595474327&sprefix=Smiling+from+ear+to+ear%2Caps%2C169&sr=8-2
The Social Distance King: Introducing Queens and Kings to Social Distancing by Eric Desio The Social Distance King sensitively introduces the topic of social distancing to kids. With recent changes in the world, we all find ourselves living…differently. The Social Distance King is a great way to entertain children and also expose them to what social distancing might mean to them. And kids, most importantly, this book helps us learn in a FUN, entertaining and thoughtful way! 
https://www.amazon.com/Social-Distance-King-Introducing-Distancing/dp/1952637139/ref=sr_1_1?crid=C942IDMVMB1P&dchild=1&keywords=the+social+distance+king&qid=1595474681&sprefix=The+social+distance+%2Caps%2C176&sr=8-1
Lucy's Mask – by Lisa Sirkis Thompson  Are your kids confused and anxious about wearing a mask? Lucy's world turned upside down. She's bored. She can't be together with her friends. But when she finds out her mom is making her a new mask her boredom turns into excitement. Lucy loves masks! She dives into her toy box full of costumes and opens a world of imagination and make-believe adventure, far beyond the walls of her room. Of course, she doesn't realize that the mask her mom is making is not a costume at all but one that will keep her safe and make her a real-life superhero.
https://www.amazon.com/Lucys-Mask-Lisa-Sirkis-Thompson/dp/B088VXBWD2/ref=pd_bxgy_img_2/136-2921468-7767254?_encoding=UTF8&pd_rd_i=B088VXBWD2&pd_rd_r=99ffcae2-ced1-4bd5-9df8-5f4fc696be1f&pd_rd_w=WJFqp&pd_rd_wg=vx8mQ&pf_rd_p=ce6c479b-ef53-49a6-845b-bbbf35c28dd3&pf_rd_r=2TPZK7TP14CA4Z7MWE6V&psc=1&refRID=2TPZK7TP14CA4Z7MWE6V
A Little SPOT Stays Home: A Story About Viruses And Safe Distancing – by Diane Alber   What is happening right now?  Why do we have to stay home ? What is safe distancing? Why can't we see our friends? How can we stay safe? A story that is easy to understand and provides education, gratitude, and hope. It empowers young children, to take action and helps them to understand viruses and why remaining home and safe distancing is both important and necessary right now. It will help children and their family to stay safe and have a positive outlook to overcome their emotions of anxiety and sadness during this difficult time in their life.  https://www.amazon.com/dp/1951287312/ref=sspa_dk_detail_0?psc=1&spLa=ZW5jcnlwdGVkUXVhbGlmaWVyPUEzRk1RMFNVTFFNMjRNJmVuY3J5cHRlZElkPUEwMzg0MDg0UlJFVkFIMVcwQ0ZNJmVuY3J5cHRlZEFkSWQ9QTA1OTQ1NTAxWDlBWE1VQ1k3WjFJJndpZGdldE5hbWU9c3BfZGV0YWlsJmFjdGlvbj1jbGlja1JlZGlyZWN0JmRvTm90TG9nQ2xpY2s9dHJ1ZQ==
SHARONA CORONA ; Children's book about coping and bravery ; Great book to help explain kids about the CORONA Virus Kindle Edition by Dvir Cohen   https://www.amazon.com/SHARONA-CORONA-Childrens-bravery-explain-ebook/dp/B0868R35X5/ref=sr_1_1?crid=2F4ZDA5476RZA&dchild=1&keywords=sharona+corona+book&qid=1595878403&sprefix=Sharona+corona%2Caps%2C185&sr=8-1
Germs Are Not for Sharing by Elizabeth Verdick. Achoo! Cough! F-L-U-S-H! What to do? Rather than focus on what germs are, this book teaches the basics of not spreading them: Cover up a sneeze or cough. Hug or blow kisses when you're sick. And most of all, wash your hands! Child-friendly words and full-color illustrations help little ones stay clean and healthy. Includes tips and ideas for parents and caregivers. https://www.amazon.com/Germs-Sharing-Board-Book-Behavior/dp/1575421968/ref=sr_1_2?crid=126VR2N7I4L5G&dchild=1&keywords=germs+are+not+for+sharing&qid=1595878803&sprefix=Germs+are+not+%2Caps%2C180&sr=8-2
When  Virona the Corona Came to Town –by Hailey Glynn  Readers follow the main character, MaryEllen, through a story that details experiences during the Coronavirus pandemic. The goal of this story is to shed light on a time of uncertainty and fear in a child-friendly way.  https://www.amazon.com/When-Virona-Corona-Came-Town/dp/B088VSTSY3/ref=sr_1_1?crid=1PLB98R4KL1IT&dchild=1&keywords=verona+the+corona+book&qid=1595875192&sprefix=Verona+the%2Caps%2C177&sr=8-1
ADDITIONAL RESOURCES
Why Do People Wear Masks?  https://youtu.be/iE6L-4tO-rs
Social Narrative: Staying Healthy Coronavirus COVID 19- A free social story to save-print-edit as needed.
https://shop.adapted4specialed.com/products/social-narrative-coronavirus-covid-19-printable-pdf?utm_source=facebook&utm_medium=paid&utm_campaign=Free+Social+Narratives+Meg+-+5%2F18%2F20&utm_term=Adset+3%3A+4.4+Million+Special+Education+Narrowed+with+Teacher%2C+Parent%2C+Early+Childhood%2C+Autism+Awareness&utm_content=Free+Social+Narrative+1&fbclid=IwAR1eMjcND7xb_kvQDbHaxUdRRXFRTdElCNpHV49qLPM6GW3cnhPZAOjCRnU
A collection of FREE Ebooks about the Corona Virus:  https://nycdoe.libguides.com/COVID-19ebooks/free
The post Bluebee Pals Help Teach about Masks and Safety During Covid-19 appeared first on Bluebee Pals®.