Alexandria Ocasio-Cortez Is Making 'House Calls' On 'Animal Crossing' Islands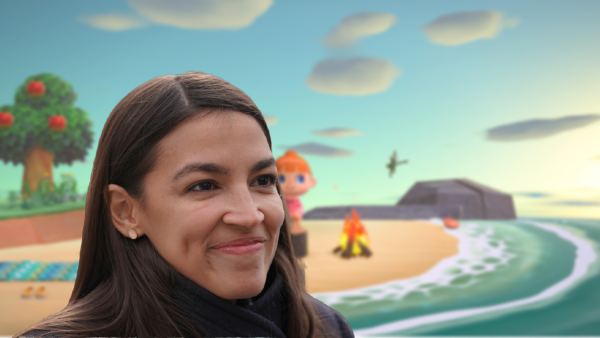 Images via Phil Pasquini / Shutterstock.com and Nintendo
People are retreating to Animal Crossing: New Horizons as they remain locked away from the world during the
COVID-19
crisis, and some are making its experience even truer to life by introducing
real jobs and
actual branded wear
(that's free!) to the Nintendo Switch game.
Even Democratic Rep. Alexandria Ocasio-Cortez has become a resident of Animal Crossing, and is hopping around islands in what she calls "House calls." On Thursday, Ocasio-Cortez tweeted for invite codes from anyone keen to welcome her into their virtual abodes so she could "leave a note or doodle on their bulletin boards."
Hi there! Very new to this.

I would like to visit random people's islands and leave a doodle or note on their bulletin board.

Can I do that? If so, how?

Should I open my DMs for the first time since the Zuckerberg hearing for the Dodo codes?? https://t.co/pQlm0ES1cM
— Alexandria Ocasio-Cortez (@AOC)
May 7, 2020
The suggestion was surprising, not only because of her political presence, but also because this would be the first time she'd open her Twitter direct messages since Mark Zuckerberg's congressional hearing in October 2019.
Her encounters with Animal Crossing players have been heartwarming so far. Ocasio-Cortez said she exchanged fruit with residents, and people were even requesting for her to pay "surprise visits" to their spouses' islands.
Update 2: first ever House call (get it?😉) in the books!

It was so sweet. Island belonged to a family of three. We exchanged fruit, took pictures, and I signed a bulletin note using my touch screen.

I was floored by how fast they typed and they taught me about the app. 🥰 pic.twitter.com/KJsI6Gjh9p
— Alexandria Ocasio-Cortez (@AOC)
May 7, 2020
Honestly never in my life did I think opening my DMs would grant me faith in humanity but the brief window actually resulted in a lot of these messages being very wholesome 😭

People are asking for surprise visits to their spouse's islands!! This is the love everyone deserves 💕
— Alexandria Ocasio-Cortez (@AOC)
May 7, 2020
She also expressed appreciation to one Twitter user for letting her visit their "gorgeous" island.
Anytime - your island is gorgeous! 🌸
— Alexandria Ocasio-Cortez (@AOC)
May 8, 2020
Perhaps her most memorable experience of all on Animal Crossing: New Horizons was a graduation ceremony for Kevin Popham, a Tulane public health student. There, Ocasio-Cortez made her first-ever "commencement address" and dressed for the occasion with a t-shirt labeled with her initials, "AOC," in handwritten letters.
It was an honor - my very first commencement address! Thank you for the invitation 🎓☺️
— Alexandria Ocasio-Cortez (@AOC)
May 9, 2020
@AOC left us beautiful note. #AnimalCrossing #ACNH #NintendoSwitch pic.twitter.com/aUSBHZPQ9Z
— Justin (@jmirsky87)
May 8, 2020
[via
CNET
, images via various sources]